CHICAGO LOST MORE MILLIONAIRES THAN ANY OTHER U.S. CITY IN 2015
Millionaires are playing a large role in the broader Chicago exodus.
Chicago lost more millionaires than Russia in 2015, according to
new research
on the migration of high-net-worth individuals. The Windy City is the only American city to register a significant outflow of millionaires in 2015, topping the losses of economically and socially distressed nations such as Russia, Spain and Brazil – and tying Greece. And while Chicago has more high-net-worth individuals than Russia and Spain, the percentage of the city's out-migrating millionaires – 2 percent – still matched that of those countries, and even surpassed Brazil's loss of 1 percent.
The report from global wealth data analysts at New World Wealth highlights the role of millionaires in the
2015 Chicago exodus
. It estimates Chicago lost 3,000 of its 134,000 millionaires in 2015. That puts Chicago in the top four global cities in terms of the loss of millionaires, along with Paris, Rome and Athens.

The report specified that Chicago's millionaires went primarily to other parts of the United States, while Paris, Rome and Athens primarily lost millionaires to other countries. Speculation as to why millionaires left Chicago included rising racial tensions and rising crime levels.
The research from New World Wealth confirms that millionaires are playing a large role in the broader flight from Chicago. According to the U.S. Census Bureau, the Chicago metropolitan area recorded
a net loss of 80,000 people to other parts of the U.S. in 2015
. The massive migration loss to the rest of the U.S. drove a shrinking population for the entire metro area, despite gains from births and international immigration.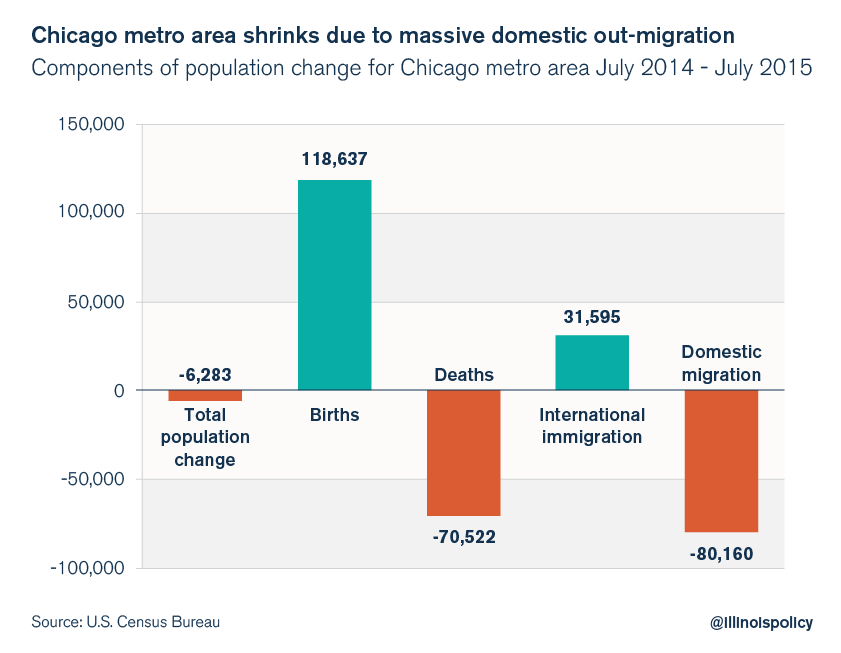 The trend of big money leaving the Chicago area is nothing new. Using Cook County's Internal Revenue Service migration records as a general indicator, the majority of people who leave the county also leave the state. Furthermore, the portion of Cook County's income that left Illinois on net was larger than the portion of Cook County's people who left the state on net, indicating that higher-income earners in Chicago might be more likely to leave the state than to move to other areas within Illinois.
In the most recent year of IRS tax migration data, 73 percent of Cook County's net loss of tax returns went to other states, 65 percent of Cook County's net loss of taxpayers plus dependents went to other states, and 80 percent of Cook County's net loss of income went to other states.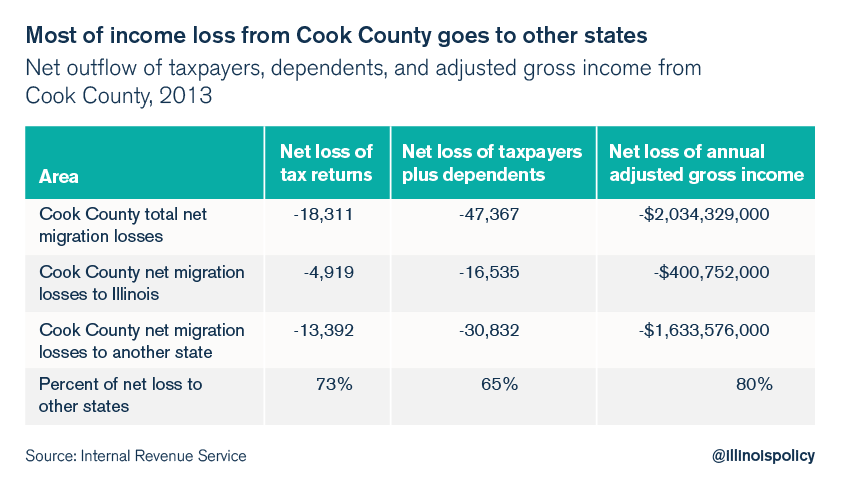 Furthermore, state-level IRS data reveal the movement of high-income earners moving in and out of Illinois. In 2013, the most recent year of data available, more than 22,500 tax filers with an adjusted gross income, or AGI, of greater than $100,000 left the state. Meanwhile, only 12,800 with an AGI greater than $100,000 entered the state. The average AGI of those who left was a little over $271,000 compared with an average AGI of $236,000 for those who entered.
All told, Illinois lost a net of nearly 10,000 tax returns and more than $3 billion of annual income from taxpayers reporting more than $100,000 of AGI in 2013.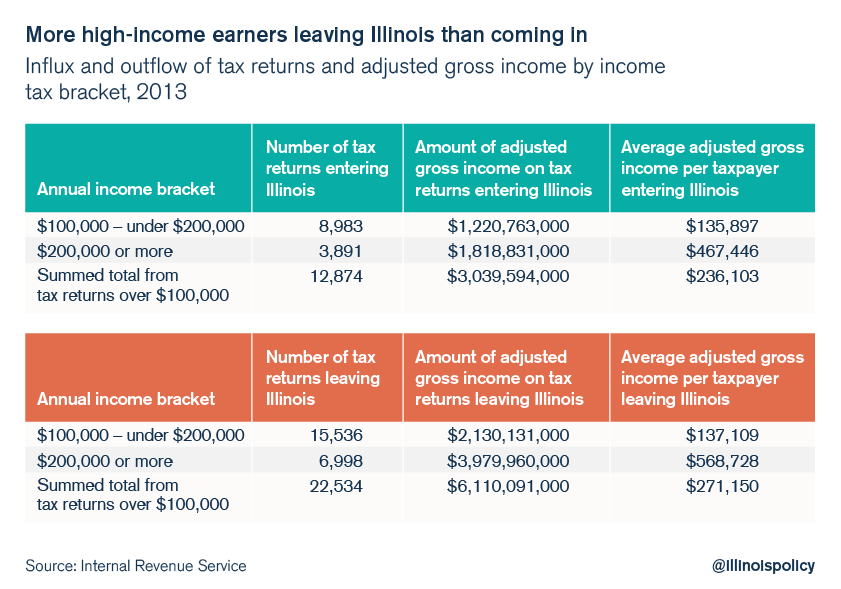 The report points out several reasons why it matters when millionaires leave a city or country. Those most relevant to Chicago include the fact that millionaires tend to be the most mobile and are often the first to leave a bad situation, 30 to 40 percent of millionaires are business owners who take jobs with them, and millionaires shoulder a significant portion of the overall tax burden.
These reasons all speak directly to Chicago's current crisis and future problems, and to the increasing possibility of municipal bankruptcy.