Tom Benson's Family Files Suit Against Saints, Pelicans Owner
Use your ← → (arrow) keys to browse more stories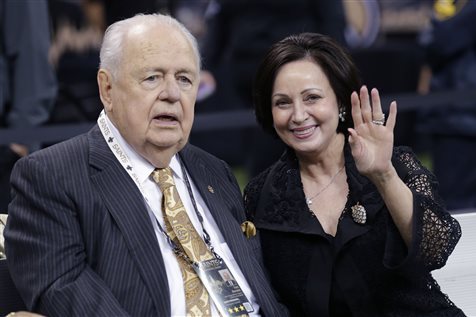 Bill Haber/Associated Press
A day after revealing that Tom Benson announced his wife, Gayle, would seize control of the
NFL
's
New Orleans Saints
and NBA's New Orleans Pelicans upon his death, his granddaughter,
Rita Benson LeBlanc, and other family members filed a lawsuit to block the change.
Continue for updates.
---
Benson's Heirs Speak on Lawsuit
Wednesday, Feb. 4
Andy Grimm
of the
New Orleans Times-Picayune
reported comments from Benson's heirs on their lawsuit:
The document filed Wednesday by Benson's heirs said they're not seeking to anatagonize him, but to help him.
"This matter is not a fight against Tom Benson, but rather a fight to protect Tom Benson," the filing said. "It is undisputed that that over half a century of 'prioritizing' his family, Tom Benson allegedly has changed course in the last 60 days and is seeking to cut all times from them."
The filing goes on to outline the heirs' decades of work for companies owned by Benson, and notes that as recently as last summer Benson filed succession plans with the NFL listing his daughter and grandchildren as his successors.